Why do we yawn and why is yawning contagious?
Just imagine: you're driving down the highway at 2pm in the heat of the day, and you're really looking forward to getting to your destination soon. You try to stay awake but drowsiness strikes.
As a result you yawn and then sit up straighter in the driver's seat, perhaps you're a little restless and act out in hopes of increasing your arousal.
Is this what people yawn for? Yawning is generally triggered by several things, including fatigue, fever, stress, medications and social and psychological reasons. From one person to another the causes are different.
The question of why we yawn raises a surprising amount of controversy over such a trivial matter. We have no evidence to point us to the exact reason why people yawn.
But there are several theories that explain why people yawn. These include increasing alertness, cooling the brain, and evolutionary theory explains that yawning is to remind others in your group that you are too tired to stay alert, and that someone else should take over.
1. Help us wake up
Yawning comes with increasing drowsiness. This is the hypothesis behind why people yawn. Yawning is also associated with increased activity and stretching movements. Increased body movement may help us stay alert when the pressure of drowsiness increases.
Also, certain muscles in the ear ( tensor tympani muscle ) are activated during yawning. This triggers a reset of the range of motion and sensitivity of the eardrum and hearing, which increases our ability to monitor the world around us after we may have lost consciousness before yawning.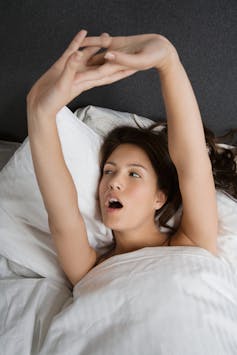 In addition, opening the eyeball and flushing the lens of the eye may result in increased visual alertness.
2. Cools the brain
Another theory as to why we yawn is the thermoregulatory hypothesis which suggests that yawning cools the brain. Yawning draws cold air into the mouth, which then cools the blood to the brain.
Proponents of this theory claim the increase in brain temperature occurs before yawning, with the decrease in temperature occurring after yawning.
But the research that gave rise to this theory only shows that excessive yawning occurs when brain and body temperatures are increasing. The research doesn't say that yawning has a cooling purpose.
People yawned more frequently when experiments created artificial fevers, which showed a correlation between warm body temperature and yawning. But there's no evidence to suggest that yawning cools the body—only that a warm body temperature triggers yawning.
3. Guard duty
Yawn-like behavior has been observed in almost all vertebrates. These observations suggest that the yawning reflex is ancient. The behavioral hypothesis based on the theory of evolution refers to humans as social animals. When we are vulnerable to attacks from other species, the function of groups is to protect each other.
Watchkeeping is part of the deal within the group, and yawning and stretching are evidence when an individual's alertness level is dropping. It is important to change activities to prevent negligence and indicate when to change people just in case.
Neuroscience explanation
The yawning reflex involves many structures in the brain.
A study that looked at the brains of people prone to yawning found activity in the ventromedial prefrontal cortex of the brain. This part of the brain is associated with decision-making activities. Damage to this area is also associated with a loss of empathy.
If a certain area around the hypothalamus , which is made up of neurons with oxytocin, is stimulated, in rodents this causes them to yawn. Oxytocin is a hormone associated with social bonding and mental health.
Injecting oxytocin into different regions of the brainstem also causes yawning. These include the hippocampus (associated with learning and memory), the ventral tegmental area (associated with the release of dopamine, the happy hormone) and the amygdala (associated with stress and emotions). Blocking the oxytocin receptors here prevents that effect.
Patients with Parkinson's disease don't yawn as often as others, which may be related to their low dopamine levels. Dopamine substitutes have been reported to increase yawning frequency .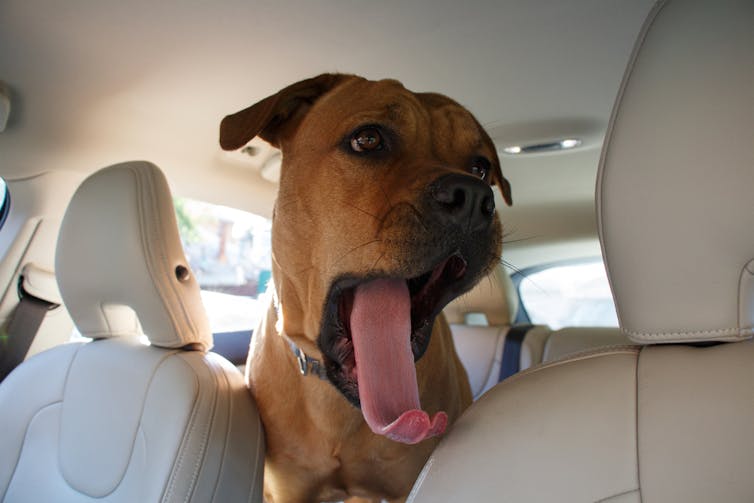 The same is true of cortisol, a hormone that increases stress. Cortisol is known to trigger people to yawn , while removal of the adrenal glands (which produce the hormone cortisol) prevents people from yawning . This suggests that stress levels may play a role in triggering why people yawn, which could be why your dog may yawn so much on long car trips.
So, it seems that yawning is somehow linked to empathy, stress, and the release of dopamine.
Why is yawning contagious?
Chances are you've yawned at least once while reading this article. Yawning is a contagious behavior and seeing someone yawn often causes us to yawn too.
But the only theory offered here suggests that a person's vulnerability to yawning is correlated with a person's level of empathy.
It's interesting to note that people on the autism spectrum are less likely to catch yawns than people with high psychopathic tendencies . And dogs, which are considered to be highly empathetic animals, can get infected when humans yawn .
Overall, neuroscientists have developed ideas that explain the various triggers why people yawn, and we have a very detailed picture of the mechanisms underlying yawning behavior. But the purpose of why people yawn remains elusive.
Back in our road trips, yawning may be a physiological cue when levels of self-awareness compete with intense drowsiness. But the important message here is that sleep may be a good choice and encourage drivers to stop and rest, and that should not be ignored.